Shop Departments
Search
Newsletter Signup
Information Pages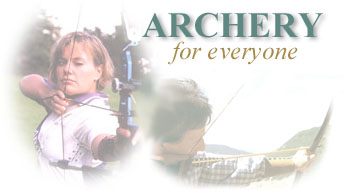 Right or Left handed?
You are right handed if you hold the bow in your left hand and pull the string with your right. Once you have established if you are right or left handed this will then apply to all accessories, including tabs, quivers and chestguards.
Payment process - updated January 2012
If you have used us in the past you will notice we have a new credit card system. Customers that used the 'remember me' feature on our site will need to clear the cookies held on your machine. We used brackets around the word "(mainland)" which caused a conflict with the new system, we have updated our web site but customers cookies stored on their own machine will still autofill address details using "UK (mainland)" - this then gives you an error message, please clear any cookies held for us and you should find no errors from then on.
Can I pay by cheque?
Once in the checkout screen you can also choose to pay by cheque by selecting 'cheque' - please note if you choose this option please send an e-mail at the time of placing your order confirming you are sending a cheque.
What is CVV2 ?
The Card ID (CVV2) is a 3-digit security code that is printed on the back of your credit/debit card. The Card ID is used to verify that you have possession of the credit card you are attempting to use.The number appears on the signature strip after the last four digits of your account number.The signature strip may contain your entire account number or just the last four digits of your account number. Either way, the Card ID will appear after the last four digits of your account number.
How do I find a local Club ?
When you first talk of Archery most people think of Robin Hood and longbows. In fact there are many different styles for you to choose from, so the first thing to do is locate a local club.
The main styles of archery are Target, 3D Field archery & Crossbow.
Target archery is governed in the UK by the Grand National Archery Society or GNAS
Field archery is governed in the UK by EFAA (marked distance) & NFAS (unmarked distance)
Crossbow is governed in the UK by NCF (National Crossbow Federation) Info on Crossbow archery can be found at IAU World Crossbow web site
What is Target Archery ?
Target Archery, World-wide, is organised, structured and controlled by the Federation International de Tir a l'Arc (FITA) to which over 80 nations interested in this branch of the sport are affiliated. The Federation's Head-quarters are in Lausanne, Switzerland and it's President is Mr. 'Jim' Easton of the U.S.A. It has a Council made up of Councillors who meet at a Congress in different parts of the World (normally allied to a major Championships). FITA is also the controlling body of other branches of the Sport (Field, Flight,Ski, etc.) and each section of the Sport has its own Committee and Chairman. There is also a Committee of Judges to oversee the running of tournaments which are held under the auspices of FITA. These Judges are appointed from a Member Nation's Judges after applying for International status and then going through a Selection procedure.The FITA round consists of 144 arrows being shot; 36 over a distance of 90m (70 for Ladies), 36 x 70m (60m) and, for both genders, 36 x 50m and 36 x 30m giving a maximum score possible of 1440.SCORING. The target face is round and is divided into 5 concentric rings starting with white being the outside ring, then black, blue, red and yellow (Gold). Each ring is sub-divided into two, thereby giving 10 rings to the face. The outside white scores 1 and the scores graduate into the inner gold which scores 10. Should an arrow touch a line, the highest total is scored. For the two longest distances of each class (ladies or gentlemen) the target face is on a 122cm target face which for the two shortest distances, is changed to an 80cm face.ACHIEVEMENT AWARDS. The Federation has awards for first-time achievement of: 'Star' for 1000-1099 points; 'Star' on Black Shield for 1100-1199 points; on Blue Shield for 1200-1299; on Red Shield for 1300-1399 and, on Yellow (Gold) Shield for 1400 and over These represent the five colours of the target face.STAR ROUNDS. Each affiliated Member Nation holds competition under FITA Rules and when they are given the FITA Status they are called FITA Stars and, anyone achieving the Star scoring achievement for the first time, may claim their 'Star.'OLYMPIC GAMES. Archery comes under FITA's jurisdiction, as does the World Championships and, for Regional Championships, affiliated bodies such as the European and Mediterranean Archery Union (EMAU) look after their own events.For many years the Double FITA round was used to arrive at the World Champion, etc., but to keep the sport in the Olympic Games, a new and more media attractive round had to be devised. This resulted, after some experiments, with the New Olympic Round, which is a Head-to-Head Shoot-out. The competition starts with the FITA round from which the top 64 archers (either gender) go forward to meet in the First Elimination rounds (all matches from this point are contested over 70m) until only two archers are left who shoot in the Finals for the Gold Medal (Olympics) or World, etc., Championship.G.N.A.S. The British affiliated Society is the Grand National Archery Society (GNAS), one of the oldest National Societies and who have a long and well-recorded history of Target Archery. The GNAS is the largest Society in Britain and organises tournaments not only under the ÒlicenceÓ of FITA but according to its own 'rounds' and Rules. The British rounds are shot over yards (100 being the longest) and are, quite often named after towns or cities (York, Hereford, Windsor, etc.) and they differ from FITA by the rings being all one scoring zones (i.e., white=1, black=3 and so on to gold=9) and by varying the number of arrows shot in a round (e.g., York=144; Windsor=108).