Product Info
Delivery
Finance
Reviews
Related Products
Whilst stocks last we have put together this great package based around the Cartel Fantom 25" handle.Perfect choice for entry/intermediate level archers, this is priced to sell.As soon as you take hold of the Fantom you will know it's a great product, good looks along with quality features like 5/16" stainless steel bushings for stabilisers and top/bottom dampers, twin 5/16" pressure button mounts allow for a multitude of setups.Tiller/Weight adjustment design that has been taken straight from many top end riser designs making adjustments both positive and simple.Classy gloss painted finish with an anti-slip bow grip that gives confidence and comfort.Fantom Package Includes• 25" Fantom Handle• Samick Vision/Privilege Wood Core Limbs*• Fast Flight String with fitted nock points• Magnetic Arrow Rest• Adjustable Pressure Button• First Choice Bow Bag• Telescopic Arrow Tube• Carbon Stabiliser Kit with V-Bar• Decut Dual Click Sight*Limbs supplied will vary between Samick & SF, but always of equal quality.
Getting into archery?
Please read our
- beginners guide -
for more information.
Usually dispatched within 1-2 working days mon-fri
Shipping Costs - Calculated at checkout

Alternatively we now offer FREE - Click & Collect
You can now order anything online and pick up from our centrally located Wolverhampton showroom.

Step 1 - Add your items to basket and head to checkout

Step 2 - Choose Click & Collect

Step 3 - Look out for an e-mail from us stating your order is ready to collect.

All we ask is that you bring along a copy of your internet order and your order will be ready and waiting for you!
BowSports are pleased to announce that we can now offer a range of finance options to our customers both online and instore(minimum spend required and subject to status).
The application process is simple and takes around 10 minutes – an answer is provided at the time of application (Further information may be required based on credit reference agency checks).
You can spread the cost of your purchases with a typical APR of 19.9%.
A deposit is required for each purchase and must be paid for using a credit or debit card.
Once the application has been approved and the deposit paid, we can complete your order.
If applying online, please select 'Finance' as your payment method during checkout and we will e-mail you an application link (during working hours).
Customer Reviews

Great kit for the price this is an ideal package for me, moving on from the wooden beginner bow i had been using. the quality of the bow is fantastic not a mark on it. the bag is perfect can fit all the gear easily and easy to carry around. still need to set the sights up but that will be a work in progress as i learn (09/01/2017) Iain F Macnee - Ayrshire
---
People who bought this also bought:
IN STOCK
Cartel Bow Stand
Find Out More
IN STOCK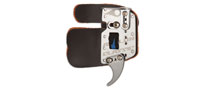 Avalon - Classic Anchor Tab
Find Out More