Product Info
Video
Delivery
Finance
Reviews
Related Products
Do you want championship target performance without a shoot-through riser design? PSE has granted your wish with the 2019 PSE Shootdown™! Developed on a new caged riser for superior shot stability and steady hold, the Shootdown™ is powered by the same SE cam and LAS Wedge Lock Pockets found on our Perform-X™ target bows, making it a world-class competition bow with true center-pull technology and fantastic tuning capabilities.
Target Series
Your bow should be a reliable tool that produces consistent results.The PSE Target line is designed to provide precision that you can count on…every time. It is their dedication to dependability that creates trust and eliminates doubt.With your Target bow in hand, you will be confident in its accuracy, and secure the victory. Again. And again. And again.

Custom Order - Delivery approx. 3-4 weeks

BowSports are pleased to announce that we can now offer a range of finance options to our customers both online and instore (minimum spend required and subject to status).

The application process is simple and takes around 10 minutes – an answer is provided at the time of application (Further information may be required based on credit reference agency checks).

You can spread the cost of your purchases with a typical APR of 19.9%.

A deposit is required for each purchase and must be paid for using a credit or debit card.

Once the application has been approved and the deposit paid, we can complete your order.

If applying online, please select 'Finance' as your payment method during checkout and we will e-mail you an application link (during working hours).
People who bought this also bought:
Available - see delivery tab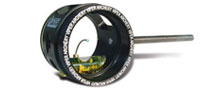 Viper - Scope - 1.38"
Find Out More