*** Showroom Open - Saturday April 20th ***
Easter Holidays - Closed April 15-19th and Monday 22nd
All services resume April 23rd 2019, thank you for your support.


Product Info
Delivery
Finance
Reviews
Related Products
An economy arrow suitable for use with most bows. Arrows are ready for use complete with fitted nocks, feather fletchings and steel field points.Important:These arrows feature taper fit points, which effectively reduces the length by approx. 1/2" when fitted.

Usually dispatched within 3-5 working days mon-fri

We do our best to keep items marked as "in stock" available, but please note stock levels are not live - If urgent or travelling to our showroom, please always call or email so we can confirm availability.
Shipping Costs

Details of postage and or shipping charges are shown at the check out, our system calculates shipping costs based on the physical weight of your order, once packed if we are able to save money on postage, we will pass on these savings on to you.
Mainland UK Shipping Guide:

Small Items from - £4.00
Arrows etc. from - £8.50-£10
Bows/Small Targets from - £10
Full Size Targets from - £40
Click & Collect - FREE

You can now order anything online and pick up from our centrally located Wolverhampton showroom.

Step 1 - Add your items to basket and head to checkout

Step 2 - Choose Click & Collect

Step 3 - Look out for an e-mail from us stating your order is ready to collect.
Following step three, your order will be ready and waiting for you!
BowSports are pleased to announce that we can now offer a range of finance options to our customers both online and instore (minimum spend required and subject to status).
The application process is simple and takes around 10 minutes – an answer is provided at the time of application (Further information may be required based on credit reference agency checks).
You can spread the cost of your purchases with a typical APR of 19.9%.
A deposit is required for each purchase and must be paid for using a credit or debit card.
Once the application has been approved and the deposit paid, we can complete your order.
If applying online, please select 'Finance' as your payment method during checkout and we will e-mail you an application link (during working hours).
Customer Reviews

Well made and fast delivery I ordered a dozen of these arrows and was very pleased with the result. I often make my own but was a bit short of time on this occasion. I would recommend this service to anyone who likes more choice and control over the arrows they use. (15/06/2016) Simon James - London
---

Good quality for the price I wasn't expecting much, a dozen arrows for £69, but they shoot very well off my new kassai wolf. Had an issue getting the size I wanted but customer support were very helpful. Have shot 12 dozen with them, no damage so far, despite some hard shots into the target stand. (24/06/2016) stephen - uk
---
People who bought this also bought:
Available - see delivery tab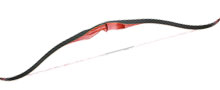 Ragim - Black Bear
Find Out More