Product Info
Delivery
Finance
Reviews
Related Products
The new TOTAL CONTROL from Carter Enterprises is a revolutionary new release that gives the archer "Total Control" of the release adjustment. This new hinge style release has two independent moon adjustments with infinite control of both the speed and clicker length adjustments. Simply by turning two screws, the archer has "Total Control" of both independent moons that can each be adjusted to the optimum position. This not only makes it the most user-friendly hinge style release but also the safest to draw. The new compact head of the release has scribed index marks for precise position referencing. The newly designed head has great lines and a sleek internal hinge that incorporates dual magnets for auto loading of the hook and head. This amazing new hinge has an open index hole and silky smooth handle for an extremely universal fit. If you are an archer looking for the ultimate hinge release that gives you Total Control of your shot then be sure to grab the new Carter Total Control.
Usually dispatched within 2-3 working days Mon-Fri
• We do our best to keep items marked as "available" in stock, but please note stock levels are not live.
• Custom order items typically take 7-10 working days Mon-Fri for dispatch
If urgent or travelling to our showroom, please always call or email so we can confirm availability.
Mainland UK Shipping Guide:
Small items from - £4
Single Parcel (1.5-20kg) from - £8.50
Click & Collect - FREE**
**As an alternative to having your order delivered, you can now order anything online and pick up from our centrally located Wolverhampton showroom.
Step 1 - Add your items to basket and head to checkout
Step 2 - Choose Click&Collect (Terms)

Next, allowing for the indicated dispatch time, look out for an e-mail from us stating your order is ready to collect.
Once you have had this e-mail, all we ask is that you bring along a copy of your internet order and your order will be ready and waiting for you!

BowSports are pleased to announce that we can now offer a range of finance options to our customers both online and instore (minimum spend required and subject to status).

The application process is simple and takes around 10 minutes – an answer is provided at the time of application (Further information may be required based on credit reference agency checks).

You can spread the cost of your purchases with a typical APR of 19.9%.

A deposit is required for each purchase and must be paid for using a credit or debit card.

Once the application has been approved and the deposit paid, we can complete your order.

If applying online, please select 'Finance' as your payment method during checkout and we will e-mail you an application link (during working hours).
People who bought this also bought:
Available - see delivery tab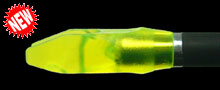 Beiter - Pin Nock
Find Out More