Product Info
Delivery
Finance
Reviews
Related Products
Model #1990 Dissipator Bar uses an ultra modern energy absorbing compound to tame recoil energy and noise on any Excalibur crossbow except Matrix Series crossbows. This lightweight accessory reduces noise by as much as eight decibels but does not reduce arrow velocity in any way! A Dissipator Bar kit comes with bars, pads, and mounting accessories.Model #1770 - The lightweight Air Brakes are constructed of an ultra-modern energy absorbing compound and will reduce recoil energy and noise on any Matrix or Micro model crossbow.Tests show an eight-decibel reduction in noise without reduction in arrow speed. The kit comes complete with bars, pads and mounting hardware, installation takes only minutes.NOTE: The string will need to be removed to install this kit so we advise you also purchase a 2096 stringing aid.
Usually dispatched within 2-3 working days Mon-Fri

We do our best to keep items marked as "available" in stock, but please note stock levels are not live.

If urgent or travelling to our showroom, please always call or email so we can confirm availability.
Mainland UK Shipping Guide:
Small items from - £4
Single Parcel (1.5-20kg) from - £8.50
Click & Collect - FREE

You can now order anything online and pick up from our centrally located Wolverhampton showroom.

Step 1 - Add your items to basket and head to checkout

Step 2 - Choose Click & Collect

Step 3 - Look out for an e-mail from us stating your order is ready to collect.
Following step three, your order will be ready and waiting for you!
BowSports are pleased to announce that we can now offer a range of finance options to our customers both online and instore (minimum spend required and subject to status).
The application process is simple and takes around 10 minutes – an answer is provided at the time of application (Further information may be required based on credit reference agency checks).
You can spread the cost of your purchases with a typical APR of 19.9%.
A deposit is required for each purchase and must be paid for using a credit or debit card.
Once the application has been approved and the deposit paid, we can complete your order.
If applying online, please select 'Finance' as your payment method during checkout and we will e-mail you an application link (during working hours).
People who bought this also bought:
Available - see delivery tab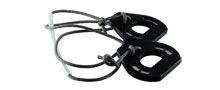 Excalibur Crossbow Stringer
Find Out More